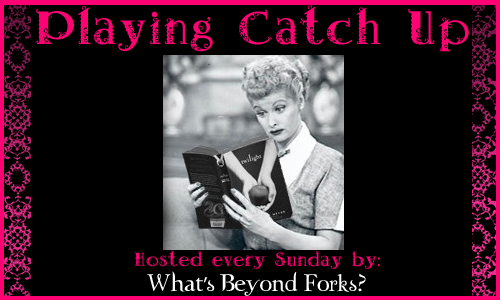 Playing Catch Up has really been helping me through my ever growing TBR list. I'd like to welcome all other blogs to participate too! If you do, be sure to post your links in the comments section. I'd love to see your Playing Catch Up Reviews, and I'm sure others would too!! *wink*
Elixir (Elixir #1) by Hilary Duff with Elise Allen
Genre:
Young Adult (Paranormal/Fantasy Romance)
Date Published:
October 12, 2010
Publisher:
Simon & Schuster Books for Young Readers

Clea Raymond has felt the glare of the spotlight her entire life. The daughter of a renowned surgeon and a prominent Washington DC politician, she has grown to be a talented photojournalist who takes refuge in a career that allows her to travel to the most exotic parts of the world. But after Clea's father disappears while on a humanitarian mission, Clea's photos begin to feature eerie, shadowy images of a strange and beautiful man—a man she has never seen before.
When fate brings Clea and this man together, she is stunned by the immediate and powerful connection she feels with him. As they grow closer, they are drawn deep into the mystery behind her father's disappearance, and they discover the centuries old truth behind their intense bond. Torn by a dangerous love triangle and haunted by a powerful secret that holds their fates, together they race against time to unravel their pasts in order to save their lives—and their futures.

Elixir is the first book in the Elixir series by Hilary Duff with Elise Allen. When I saw this was by Hilary Duff, I was very curious. I like her music and Lizzie McGuire. I listened to the audio version, and I really enjoyed the narrator they chose. She did a good job. I felt like her style was very "Hilary". So, it fit.
The story was entertaining. I liked Clea. Love her name. She's a little oblivious at times, but who isn't. Ben was adorable. I feel bad for the poor dude. He tries. Read it, and you'll know why. What a life Sage has had. It's almost like a punishment. There were some similarities to other stories. I kept thinking of Fallen by Lauren Kate for one, but I still found it to be an entertaining read. I didn't like anything about the ending, so thank goodness, it's a series. Overall, Elixir had an interesting premise, and it kept my attention from beginning to end. I'm definitely curious about what happens next!
Hilary Duff
is a multifaceted actress and recording artist whose career began on the popular sitcom Lizzie McGuire. She has since worked on a number of films and TV series and most recently appeared in a guest-starring role on Gossip Girl. She has sold more than thirteen million albums worldwide and has a clothing line, Femme, for DKNY and a bestselling fragrance, With Love…Hilary Duff, for Elizabeth Arden. Hilary's humanitarian work is recognized throughout the world. She is actively involved with the charity Blessings in a Backpack, a program that provides quality nourishment for children who wouldn't otherwise receive it. She has served on the President's Council on Service and Civic Participation and was named ambassador to the youth of Bogota, Columbia. Elixir is her first book.
To learn more about Hilary Duff and her books, visit her
website
.You can also find her on
Goodreads
,
Facebook
, and
Twitter
.
Elise Allen
has been writing professionally since 1996, with credits that include TV, DVDs, internet shows, and books.
She's recently co-written Elixir, Hilary Duff's first YA novel.
Her new book, Populazzi, comes out on August 2011, by Harcourt Children's Books.
To learn more about Elise Allen and her books, visit her
website
.You can also find her on
Goodreads
,
Facebook
, and
Twitter
.